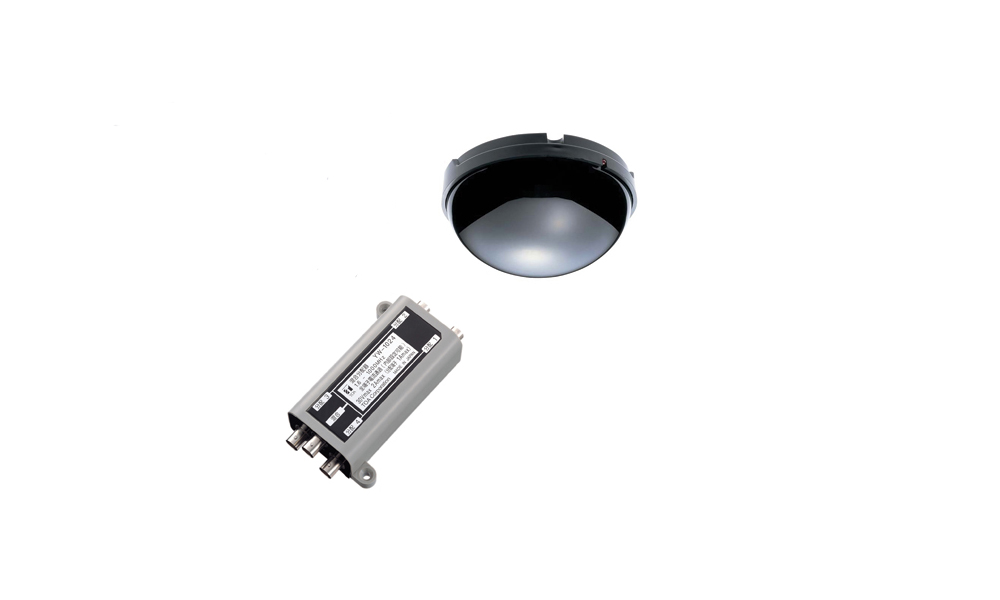 TS-905 A1
The TS-905 is an Infrared Transmitter/Receiver of the Infrared Conference system. It can be mounted not only to the ceiling and wall but on the microphone stand.
The YW-1024 is a distributor that can work in the frequency range of 1.6 to 1000 MHz (except 50 to 70 MHz). Power passing type permits easy power supply.
TS-905 A1 consist of TS-905 1 unit and YW-1024 1 unit.
| | |
| --- | --- |
| Power Source | 24 V DC (supplied from the Central unit) |
| Current Consumption | Max. 150 mA |
Infrared Emitter/Detector
Wavelength
870 nm (AM: Brightness modulation)
Modulation Method
Frequency modulation
Carrier Frequency
Transmission: Audio channel 1: 7.35 MHz
Audio channel 2: 8.10 MHz
Audio channel 3: 8.55 MHz
Audio channel 4: 9.15 MHz
Control channel: 6.45 MHz
Reception: Base language channel: 1.95 MHz
Translation language channel: 2.25 MHz
Acceptance Angle
Vertical: 150゜ (75゜ + 75゜), Horizontal: 360゜
Emission Angle
Vertical: 150゜ (75゜ + 75゜), Horizontal: 360゜
Communication Area
Approx. 6 - 7 m (19.69 - 22.97 ft) in radius from the point underneath the unit
(Ceiling height: 2.5 - 4.5 m (8.2 - 14.76 ft))
Connection Terminal
BNC jack
LED Indicator
Power
Operating Temperature
0 ℃ to +40 ℃ (32 ゜F to 104 ゜F)
Operating Humidity
90 %RH or less (no condensation)
Finish
Dome: PC resin, visible light cut filter Base: ABS resin, black
Dimensions
φ120 × 71.3 (H) mm (4.72" × 2.81")
Weight
230 g (0.51 lb) (unit only)
Accessory
Mounting bracket…1, Stand mounting bracket…1,
Stand mounting bracket attaching screw…3, Thread Adapter (U5/16 - NS5/8)…1
Option
Microphone stand (The mounting thread size must be U5/16 or NS5/8.)
for YW-1024
Frequency Range
1.6 - 1000 MHz (excluding 50 - 70 MHz)
Distribution Loss
8.5 dB ±3 dB (between the Mixing and each Distribution terminals)
Input/Output Impedance
75 Ω
Coaxial Connector
Mixing terminal: BNC jack, power passing type (30 V DC or less, 2 A or less)
Distribution 1 - 4 terminals: BNC jack, power passing type
(30 V DC or less, 1 A or less)
Operating Temperature
-10 ℃ to +50 ℃ (14 ゜F to 122 ゜F)
Operating Humidity
90 %RH or less (no condensation)
Finish
ABS resin, gray
Dimensions
75 (W) × 122 (H) × 34 (D) mm (2.95" × 4.8" × 1.34")
Weight
120 g (0.26 lb)
Accessory
Unit fixing wood screw (4.1 × 25) …2